You Might be Right – A Baker School Podcast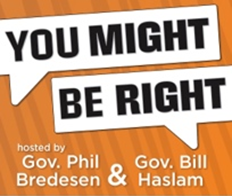 Former Tennessee Governors Bredesen, Haslam host a podcast featuring civil conversations about tough topics
Welcome to You Might be Right, a podcast co-hosted by former Tennessee Governors Phil Bredesen and Bill Haslam from the Howard H. Baker Jr. School of Public Policy and Public Affairs at the University of Tennessee. You Might be Right takes its name from one of Senator Baker's most often-cited pieces of advice: always keep in mind that the other fellow might be right.
Join the conversation online by following @YMBRPodcast on Facebook, Twitter and Instagram, and the Baker School and our podcast hosts @UTBakerSchool, @PhilBredesen, and @BillHaslam.
Subscribe and follow You Might be Right wherever you get your audio content – including Apple Podcasts and Spotify—to never miss an episode, or sign up for our email list to receive new episodes straight to your inbox each week here.
What People Are Saying
⭐⭐⭐⭐⭐ "Fantastic. Finally… a conversation about important issues with respect & civility."

⭐⭐⭐⭐⭐ "This podcast is much needed. In a world full of complex problems, I appreciate that Gov. Phil Bredesen & Gov. Bill Haslam acknowledge that the wisdom of many will be needed to find solutions. Building walls of fear & distrust will not resolve our issues. Honest, respectful discussion can, however, begin the process."

⭐⭐⭐⭐⭐ "Bipartisanship in action!"

⭐⭐⭐⭐⭐ "Excellent, thoughtful, & well-presented. Love the guests & the topics covered to date. The idea that we can have civil discourse is so refreshing."
About Your Hosts